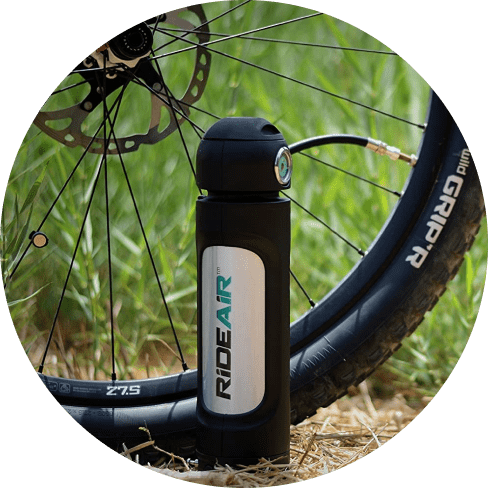 The effortless air pump
RideAir lets you inflate bicycle/wheelchair tires at a push of a button, it's that simple! Refillable multi-use portable air capsule. The perfect tubeless seating solution for bicycle tires.
About this item
Inflate, don't pump!
Carry it with you anywhere
It's generically designed to fit any bicycle bottle holder, and the integrated metal cable lock makes
it completely safe to use.
Refill and stop wasting money on CO2
The RideAir capsule can be easily refilled using any air-compressor in any gas station. No need to search for a bike store anymore!
Quick and effortless
As riders, we love to bike, but hate pumping
air into our tires. Quite often, they will fail us
when least expected. Be prepared when that
time comes!
Simple functionality
To inflate a tire, you screw the hose onto the valve and press the silver button on the RideAir to release all or part of the compressed air.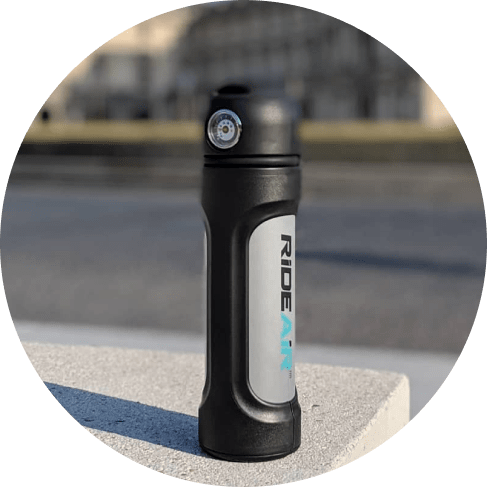 Tubeless seating made easy
The RideAir Compressed Air Capsule is perfect for seating tubeless tires, replacing CO2 cartridges, and facilitating fast inflation in pit-stop race scenarios.
The best e-bike solution
Riding your bike with a soft tire will dramatically decrease your e-bike power efficiency. RideAir can give you the extra mile you need for your e-bike!
Refillable and portable air capsule
Inflate your bike tires at the push
of a button!
Once charged with a standard air compressor (in any gas station or bike shop)
or with floor pump, RideAir capsule is ready for use. RideAir is designed to easily be placed in
any water bottle holder on your bike. It also comes equipped with a gauge for the capsule pressure indication
and a combination lock to keep the RideAir where it belongs.