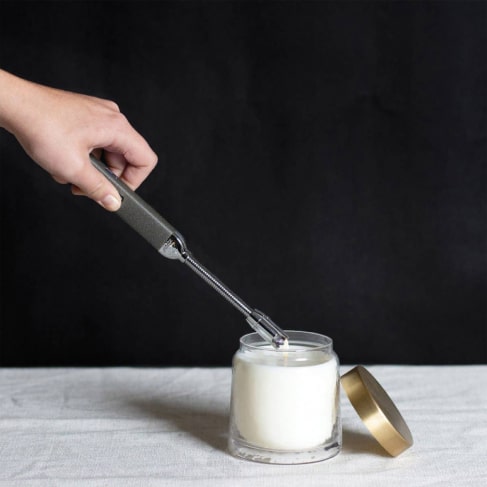 Love the aroma of candles?
In collaboration with Zippo, the trusted lighter brand you know, we're offering a flameless USB rechargeable lighter. Each lighter comes with its own charger cord and is packaged in a gift box for easy storage. The rechargeable feature decreases the waste of buying disposable plastic lighters and eliminates the extra process of refilling lighters with fluid or butane.
Rechargeable candle lighter specifications
The easiest way to light up any candle
Product details
This rechargeable lighter has the following dimensions: 4.5 x 1.25 x 11.5 in. and weighs approximately 0.65 lbs. So you can be sure that it doesn't take any room at all.
What's included in the package
The rechargeable lighter comes with a USB cord to charge it up whenever the battery runs out.
Made in the United States of America
The lighter is designed and made in the United States, and the manufacturer states that its mission is to bring creatively designed, socially responsible products to market that will inspire you on a daily basis.
Easy to use
First, activate the arc by pressing the button on the back while sliding the ignition lever up.
Second, line up candle wick with the ignited arc. Remain over the wick until it is lit.
When the lighter is in need of charging, use the USB charging cord (included) to recharge.
Bring more functionality
If you're the type of person that likes to light up candles to brighten up an afternoon, then you're definitely in the need of something that will make your life easier. With the rechargeable lighter, your mornings and evenings will be brighter than ever before.