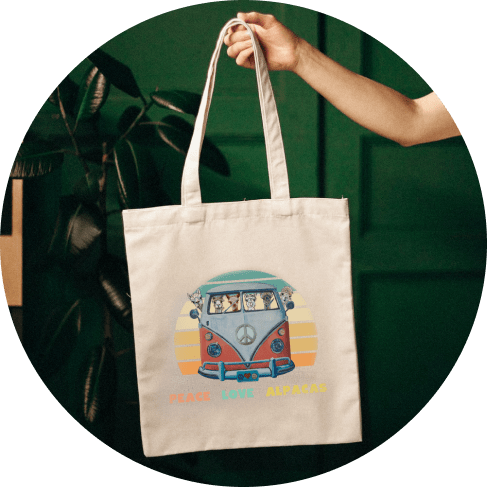 All aboard the alpaca mobile
Love alpacas? So do we. That's why we found a way to bring all these fluffy friends with you, wherever you go, with our Hippie Hound Studios "Peace Love Alpacas" Tote Bag.
(We couldn't say it better ourselves)
Peace. Love. Alpacas.
Supportive everywhere you go
From a day at the flea market to trips to the grocery store, our 14" x 15" (W x H) canvas tote bag can carry your purchases with no burden.
Natural support + build
Hippie Hound Studios prides itself on using 100% cotton with sturdy stitching and webbed handles for premium support and hold.
All your furry ones, ready to roll
Our tote bag features six lovely alpacas behind the wheel of a van adorned by the peace sign. That's a vibe.
You'll turn heads
Bring our Hippie Hound Studios "Peace Love Alpacas" Tote Bag with you, and you'll have alpaca lovers asking you where you got your bag.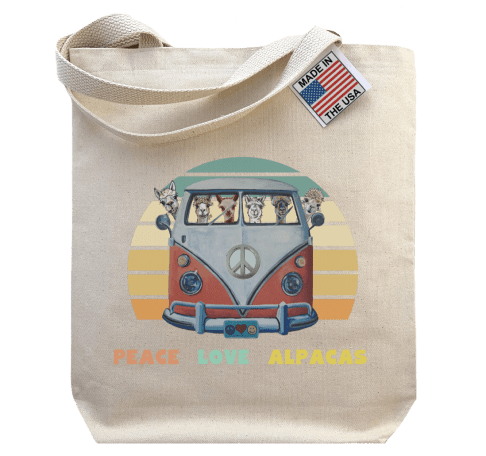 Made in the U.S.A
All of Hippie Hound Studios' bags are made in the United States so you can support an all-American small business.
Go green
Much of the world has strayed from plastic bags now, so do your part — and shop smart by going green with your own canvas tote bag for your shopping needs.
We love animals. You love animals.
At Hippie Hound Studios, we have a heart for all of nature's friends who run in nature and in sync with our everyday lives. From dogs to goats and chickens and cats, we print all the cutest animals onto a variety of tote and canvas bags — so you can bring your favorite animal with you wherever you go. All our bags are made with love from North Carolina in the U.S.
About Hippie Hound Studios
My obsession with animals began at a very young age. It all started at 2 years old with my first dog. I quickly realized dogs didn't talk back, they love you unconditionally and never judge their human companion. Soon after came my love for art. However, it took me a few years (quite a few!) to get up the nerve to combine the two into my dream job!
I was born and raised in Western NC. I studied Fine Art at Western Piedmont Community College, then Fine Art and Graphic Design at Appalachian State University in Boone, NC. However my fear of being a 'starving artist' held me back. I changed directions and spent 17 years working a fulfilling career in Occupational Therapy with special needs children. I experienced many of the typical bumps in life that most adults experience. However, in 2015 I experienced a life changing event of losing my father in law and nearly losing my husband in a terrible car accident. It was then I decided life was too short not to at least make an attempt to follow my passion. I combined my love for animals and art into my full time job and couldn't be happier!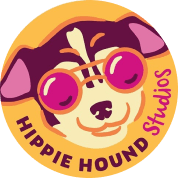 Designed In
Morganton, North Carolina