Cow Shopping Bag
Keep calm and love cows!
This funny cow print tote will definitely keep you in the mood every time you carry it 😉
Sustainable, eco-friendly, and reusable, this tote bag is a great alternative to plastic bags. It is a perfect size to slip in your handbag, work bag, or pocket to use as a shopping bag or for those essentials you need to carry when you're out and about.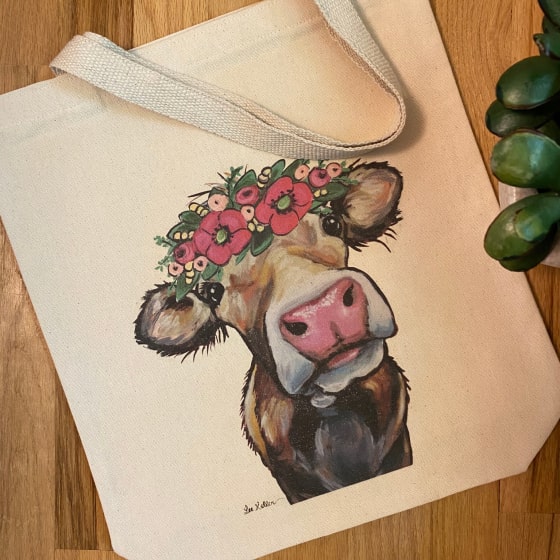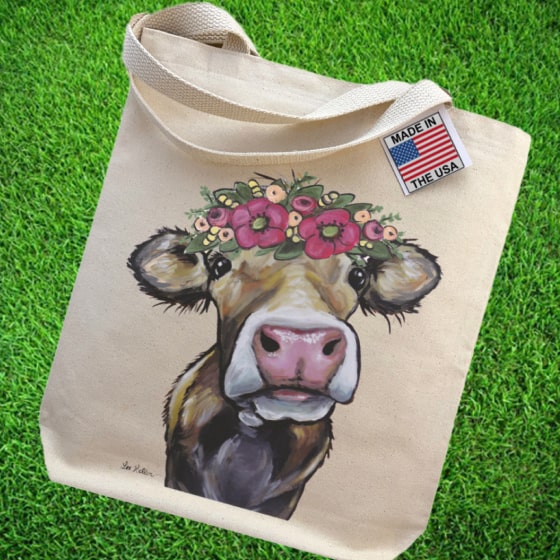 Highlights & features
What makes this Cow Shopping Bag special?
Handmade in the USA
We are very proud to say that our tote bag is manufactured locally, in the USA! Each bag is printed in North Carolina by Hippie Hound Studios. * Bag is printed on one side.
100% eco-friendly
Made of 10oz cotton canvas, the bag is ideal for replacing those plastic shopping bags and doing your bit for the environment!
Easy care
Made from a heavyweight organic cotton, this tote bag is washable and durable. Spot clean using parchment paper between iron and art transfer. A fabric protectant can be used on the tote.
Multiple Use
The Cow Shopping Bag is perfect as a school bag, lunch bag, clothes bag, laptop carrier, laundry bag, diaper bag, beach bag, gym bag, grocery and farmers market shopping bag, or travel bag.
Your ideal shopping bag
Measuring 15.5h" x 14″w x 3.5″, this Cow Tote bag is super convenient for shopping!
It has long cloth handles which make it very easy to carry by looping over your shoulder or just by the hands.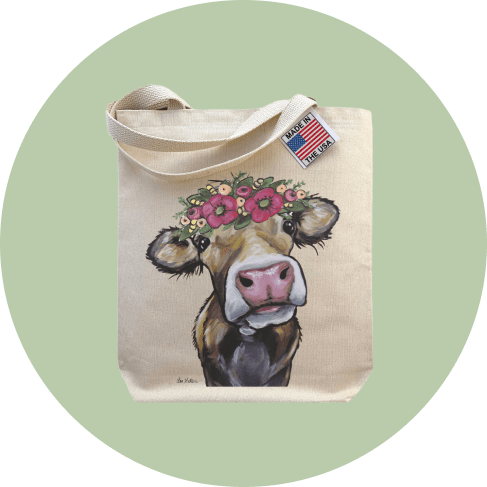 About Hippie Hound Studios
My obsession with animals began at a very young age. It all started at 2 years old with my first dog. I quickly realized dogs didn't talk back, they love you unconditionally and never judge their human companion. Soon after came my love for art. However, it took me a few years (quite a few!) to get up the nerve to combine the two into my dream job!
I was born and raised in Western NC. I studied Fine Art at Western Piedmont Community College, then Fine Art and Graphic Design at Appalachian State University in Boone, NC. However my fear of being a 'starving artist' held me back. I changed directions and spent 17 years working a fulfilling career in Occupational Therapy with special needs children. I experienced many of the typical bumps in life that most adults experience. However, in 2015 I experienced a life changing event of losing my father in law and nearly losing my husband in a terrible car accident. It was then I decided life was too short not to at least make an attempt to follow my passion. I combined my love for animals and art into my full time job and couldn't be happier!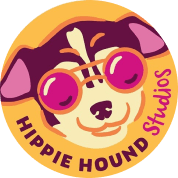 Designed In
Morganton, North Carolina